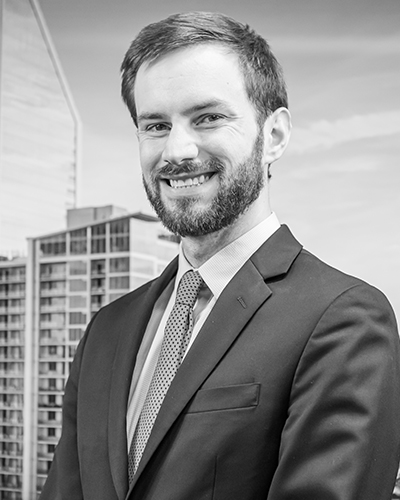 William Bulluck
Investment Adviser Representative
William Bulluck is an investment adviser representative with a passion for helping clients to create strong financial plans. He knows the success of any plan depends on its ability to stay nimble and adapt to the many unexpected events that occur during life and in retirement. He takes pride in his ability to simplify the planning process so that you don't feel overwhelmed. Creating strong relationships is a priority. He hopes that anyone who comes through his door feels as comfortable around the team at Alloy Wealth as they do around family and friends. 
Before entering the financial industry, William earned a Bachelor of Business Administration degree from North Carolina State and a Master of Business Administration degree from East Carolina University. He worked for three years at Edward Jones as a financial adviser, where he realized the need for true holistic planning. In the summer of 2022, he transitioned to Alloy Wealth where he can connect his passion for helping others with his skillset in all the different areas that can affect someone during retirement. William is also proud to serve as a fiduciary.
Born and raised in Rocky Mount, NC, William grew up in the car business, working as a teenager at his family's car dealership. A huge Carolina Panthers and NC State fan, William also enjoys participating in local sports leagues including flag football and corn hole, and volunteers at the humane society on occasion. He is married to his wife, Caroline, and together they have two cats and a son, Henley, who is just under age one. When not in the office, William can be found hiking, playing sports, or adventuring in one of his favorite places such as Asheville or Savannah.
You see, it's not "will there be" a market downturn, it's "when" there will be a market downturn. Stock market downturns are inevitable, and that's why there has to be a clear strategy for your portfolio to help protect your principal during down-market cycles, especially when it comes to retirement planning.
When it comes to investment management, Alloy Wealth will help guide you towards your goals.

Insurance services offered through Alloy Wealth Management Inc. Investment advisory services offer through Alloy Wealth Holdings LLC dba Alloy Investment Management. Alloy Wealth Management Inc and Alloy Wealth Holdings LLC dba Alloy Investment Management are affiliated by common ownership. Alloy Wealth Holdings, LLC - DBA Alloy Investment Management is a state registered investment adviser in South Carolina and North Carolina, and only conducts business in states where it is properly registered or is excluded from registration requirements. Registration is not an endorsement of the firm by securities regulators and does not mean the adviser has achieved a specific level of skill or ability. Opinions expressed are subject to change without notice and are not intended as investment advice or to predict future performance. Past performance does not guarantee future results. Consult your financial professional before making any investment decision.
The information we provide regarding tax minimization planning is not intended to, and cannot, be used by anyone to avoid paying federal, state, or local municipalities, taxes, or penalties. You should seek advice based on your particular circumstances from an independent tax advisor as tax laws are subject to interpretation, legislative change, and unique to every specific taxpayer's particular set of facts and circumstances.
Annuity guarantees rely on the financial strength and claims-paying ability of the issuing insurer. Any comments regarding safe and secure investments, and guaranteed income streams refer only to fixed insurance products. They do not refer, in any way to securities or investment advisory products. Fixed insurance and annuity product guarantees are subject to the claims‐paying ability of the issuing company and are not offered by Alloy Wealth Holdings LLC - DBA Alloy Investment Management.
Copyright 2020 | All Rights Reserved