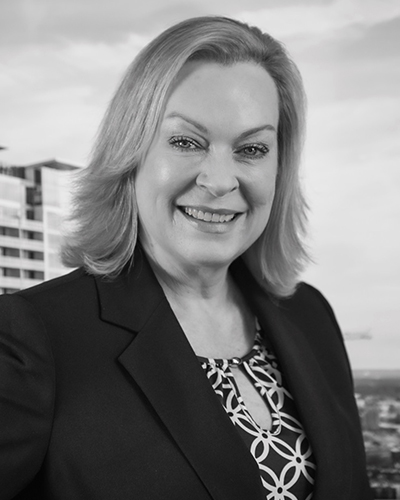 ERICA ELLIOTT
Director of Operations / CCO
Since 2014 Erica has been promoting a culture of family at Alloy Investment Management by ensuring every client is treated to a first-class service experience. Whether it's in person, over the internet, or on the phone, Erica personalizes every interaction because, at Alloy Investment, clients are never just a number. While building relationships with the clientele is her favorite part of the job, Erica wears multiple hats. As the Chief Compliance Officer in a highly regulated industry, she reviews all marketing materials to ensure they are never exaggerated, misleading, or overly promissory. She works closely with the firm's CEO to create policies and procedures and ensure that new business is processed in a timely fashion and in accordance with carrier guidelines. As Director of Operations, she supervises the day-to-day workflow of the staff, coordinates travel and events, and handles all human resource matters. A former educator, Erica also helps to troubleshoot potential issues for the firm's educational workshops and events.
Erica entered the financial services industry in 2013 as an employee in the insurance business. It was there she obtained a foundation of knowledge about carrier nuances and procedures, as well as best practices when assisting clients. Prior to her career in financial services, Erica served as an instructor at Gaston College.
Erica graduated with honors from Belmont Abby College with a Bachelor of Arts and from Gaston College with an Associate of Arts degree, also with honors. She serves as a board member to the Ashbrook Foundation to help raise money for student scholarships and programs for Ashbrook High School in Gastonia, North Carolina. When not in the office, she can be found spending time with her family, which now includes her husband, three children, a son-in-law, one dog, and a pampered cat.
You see, it's not "will there be" a market downturn, it's "when" there will be a market downturn. Stock market downturns are inevitable, and that's why there has to be a clear strategy for your portfolio to help protect your principal during down-market cycles, especially when it comes to retirement planning.
When it comes to investment management, Alloy Wealth will help guide you towards your goals.

Insurance services offered through Alloy Wealth Management Inc. Investment advisory services offer through Alloy Wealth Holdings LLC dba Alloy Investment Management. Alloy Wealth Management Inc and Alloy Wealth Holdings LLC dba Alloy Investment Management are affiliated by common ownership. Alloy Wealth Holdings, LLC - DBA Alloy Investment Management is a state registered investment adviser in South Carolina and North Carolina, and only conducts business in states where it is properly registered or is excluded from registration requirements. Registration is not an endorsement of the firm by securities regulators and does not mean the adviser has achieved a specific level of skill or ability. Opinions expressed are subject to change without notice and are not intended as investment advice or to predict future performance. Past performance does not guarantee future results. Consult your financial professional before making any investment decision.
The information we provide regarding tax minimization planning is not intended to, and cannot, be used by anyone to avoid paying federal, state, or local municipalities, taxes, or penalties. You should seek advice based on your particular circumstances from an independent tax advisor as tax laws are subject to interpretation, legislative change, and unique to every specific taxpayer's particular set of facts and circumstances.
Annuity guarantees rely on the financial strength and claims-paying ability of the issuing insurer. Any comments regarding safe and secure investments, and guaranteed income streams refer only to fixed insurance products. They do not refer, in any way to securities or investment advisory products. Fixed insurance and annuity product guarantees are subject to the claims‐paying ability of the issuing company and are not offered by Alloy Wealth Holdings LLC - DBA Alloy Investment Management.
Copyright 2020 | All Rights Reserved